Lewis Systems carries a full line of quality industrial rotary screw air compressors, with offices in Greensboro, Charlotte, Raleigh/Rocky Mount NC and Lynchburg VA. Our products include; Oil Flooded Rotary Screw compressors, both fixed and variable speed and Oil Free Rotary Screw compressors. We represent the industry leaders in compressed air such as Gardner Denver, Curtis, Hitachi and Kobelco.
Gardner Denver Rotary Screw Compressors
Gardner Denver rotary screw compressor packages range from 5 to 500 hp. Choose from a wide variety of rotary screw air compressors to fit all your needs.
Apex 5-30hp Fixed Speed
Apex VS Series 7-22kW Variable Speed
Integra 30-50hp Fixed Speed
Electra-Saver 50-500hp Fixed Speed
L Series 10-180hp Fixed Speed
LRS Series 7-132kW Variable Speed
Electra Screw 40-50hp Fixed Speed
Electra Saver II 30-200hp Fixed Speed
VS Series 20-250kW Variable Speed
VST Series 55-260kW Variable Speed Two Stage
Kobelco Rotary Screw Compressors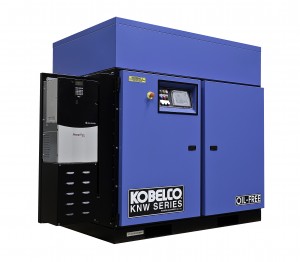 Kobelco KNW series oil-free rotary screw compressors provide completely oil-free air. Kobelco compressors are designed for long operating life, minimum maintenance and low operating costs.
KNW Series 20-50hp Fixed Speed Two Stage
KNW Series 25-75hp Variable Speed Two Stage
KNW Series 40-500hp Fixed Speed and Variable Speed Two Stage
Hitachi Oil Free Rotary Screw Compressors
Hitachi is known for their innovative and energy efficient designs when it comes to Oil Free air compressors. A wide range of fixed and variable speed units with water cooled and air cooled options give you the flexibility you need for all of your Oil Free applications.
DSP Fixed Speed Single Stage 15-55kW
DSP Fixed Speed Two Stage 22-240kW
DSP Variable Speed Single Stage 22-55kW
DSP Variable Speed Two Stage 37-240kW
Curtis Rotary Screw Compressors
Curtis rotary screw compressor packages range from 5-300hp. Both fixed speed and variable speed are available as well as Oil-Free.
Nx Series 4-37kW Fixed Speed
GSV Series 20-100hp Variable Speed
SE Series 5-50hp Fixed Speed
RS Series 10-300hp Fixed Speed
AF Series 25-200hp Variable Speed
ZW Series 20-50hp Oil Free Single Stage